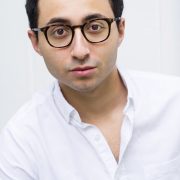 Doron has always been a performer. At the age of three, he was already creating and performing
shows for his family members. Continuing his performing into high-school and university, he has
just completed a Bachelor of Music (Music Theatre) at the Australian Institute of Music.
Whilst studying Doron had the opportunity to be involved in many of AIM's great productions. In
2013 Doron played Bud Frump in How To Succeed In Business Without Really Trying (Directed by
Jennifer Murphy) and also had the pleasure of playing Bob Hawke in Keating! The Musical
(Directed by Jay-James Moody). Doron would like to thank AIM for their support and guidance
throughout his study. Outside of study, Doron has had the pleasure of being involved in productions
such as: Squabbalogics Mystery Musical (Ensemble member) and the role of African American
number 3 (self proclaimed) in Packemin's Production of Hairspray.
Doron is currently playing the roles of Bob Hawke and John Howard in Birdie Productions of
Keating! The Musical. Set for the stage in July 2015.
Doron cannot wait to start off his career in Music Theatre and is currently writing his one man
show.