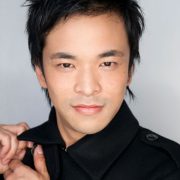 Jonathan graduated with a Bachelor of Creative Arts (Theatre – Performance) fromThe University of Wollongong.
Jonathan has recently returned from London having appeared in the West End transfer of It's a Bird…It's a Plane…It's Superman (Father Ling); the critically acclaimed production of The Last Days of Limehouse (Stanley Lim) for Yellow Earth Theatre; Turandot Reimagined (Madarin/Timur) for the New Theatre Royal Portsmouth and Tete-a-Tete Opera Festival; and the immersive theatre sensation The Secret Island (Uncle Huat).
Australian theatre credits include The King & I with The Production Company; the national tour of Sadako and the Thousand Paper Cranes (Masahiro/Father); the NSW regional tour of Jungle Bungle (Oliver); and national tours of Futures, Face Values, Once Upon a Stage and Take Off for the Australian Theatre of the Deaf.  Jonathan originated the role of Nam Tram in Honey: A Play with Music (Nam Tran), an adaptation of Bryce Courtney's Smoky Joes Café, which received the 2007 GLUG award for Best New Australian play.  Other credits include Dragon Ball for the 2013 Sydney Chinese New Year Festival; the Australian premiere of the Edinburgh Fringe Festival hit Crab House: A Bloody Musical (Marty/Vernon); host for The Wiggles Character Shows; Santa's Kingdom (Myron True Love); Seussical the Musical (Mayor of Whoville); A Funny Thing Happened on the Way to the Forum (Hero) and Flower Drum Song (Wang San).
Television appearances include TFI Friday (Channel 4, UK), Old School (ABC) where he starred opposite Sam Neill and Bryan Brown, Hamster Wheel (ABC), Logie nominated TV series' The Ronnie Johns Half Hour series 1 and 2 (Channel 10) and numerous TV Commercials for Australia, UK, USA, Canada, Singapore and Hong Kong.
With a passion for new and upcoming work, Jonathan enjoys discovering and workshopping new work.  Workshop productions include: Li Cunxin's The Peasant Prince (Dia/Teacher Xiao/Consul Zhang) with Monkey Baa Productions; Turandot Reimagined, UK (Mandarin/Timur); Shells for Yellow Earth Theatre, UK; Universally Speaking for Theatre 503, UK; Guy Noble's Karaoke the Musical (Flynn) and numerous workshop readings with Parramatta Riverside Theatres' Breakout Program.
Jonathan has worked internationally with the acclaimed Opera act sensation The Three Waiters and worked in residence at The Venetian, Macau as a principal artist.