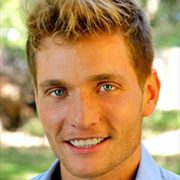 Born in Halle/Saale, East Germany in 1985, Stefan Mogel is an Actor, Writer and Assistant Director. He began acting at the age of six in school plays and went on to perform in theatre throughout High School, both in Germany and the United States, where he moved at the age of 16.
In 2006 Stefan moved to Australia and has appeared in Film & Television Productions such as Reef Doctors, In Your Dreams and The Horizon, together with performances on television and on the stage in Germany. He studied acting at Screenwise and The Actors Hub in Sydney, as well as at the prestigious Warehouse Studio.
Apart from his studies as an actor, Stefan completed a Bachelors Degree in Media Economics with a focus on the production of Theatre, Fashion Shows and Radio Programs at The University of Technology in Mittweida, and The Management Academy in Riesa in Germany, for which he received a full Scholarship. In the recent past, he has worked as an Assistant Director, as a Teacher, and has written two Screenplays.