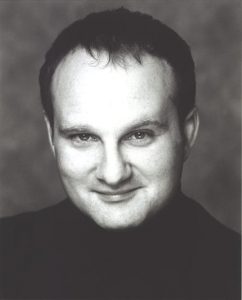 As a trained actor, Andrew has performed on stage in A CHORUS LINE, THE EXCEPTION AND THE RULE, THE BEAUX STRATAGEM, CRAZY FOR YOU, RE:MACBETH, SPUNKS, ABELARD AND HELOISE, A MIDSUMMER NIGHTS DREAM, WHAT THE UMBRELLA DID NEXT, BEATRICE and RENT playing the lead role of Mark Cohen in Rent.
Most recently he appeared in PUTTING IT TOGETHER and toured in the Opera Australia production of MY FAIR LADY as the understudy to Cnl Pickering.
A cabaret performer, Andrew has toured Australia in the Premiere of the Hit New York Revue KOOKY TUNES, and the satirical comedy hit AUNTY MAVIS, TEA AND TIMELESS ADVICE, SCONES AND SONGS and STOCKING STUFFER, TURKEY PLUCKER.
Andrew regularly works with LEAVE IT TO DIVA with Lesley Hancock and together they are fast becoming a dynamic comedy duo on the national and international corporate stage.
His television and film credits include MOULIN ROUGE, HOME AND AWAY, GOING HOME, MTV, SHOCK THERAPY, LE CHAUSER, HOLD IT and MORNINGS WITH KERRI-ANNE.
As a director, Andrew has worked on JUST EQUAL, EVIL WILL STRIKE and CURIOUSER AND CURIOUSER for the Newtown High School of the Performing Arts; for whom he directed the revolutionary new production of JESUS CHRIST SUPERTAR. His directing commitments have seen him work as the Assistant Director on THE WESTIE MONOLOGUES at the Sydney Fringe Festival and Belvoir Street Seasons for Push Up Theatre as well as at The Stables Theatre on SOLITUDE IN BLUE for Glass Theatre.