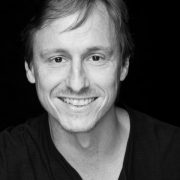 From a background spanning rock n' roll, a cappella, opera and musical theatre, Paul's diverse experience stands him apart as a performer.
A skilled drummer, gifted singer and unexpected acrobat, Paul sharpened his skills at the West Australian Academy of Performing Arts, graduating with a bachelor of musical theatre in 2006. Shortly after, he was snapped up as an original cast member of Billy Elliot and he has most recently returned from a South Korean tour of Jekyll and Hyde the musical.
Having first cut his teeth as a drummer in rock bands in Adelaide, Paul soon developed into a lead singer. That powerful voice would see him join Perth a cappella group Red Pepper which enjoyed success in the late 1990's with national television appearances and support act performances for artists such as Tina Arena. The group's CD Megamouth was praised by Rolling Stone magazine as "an amazing wall of sound."
In 1999 Paul's career took a more traditional singer, actor, dancer turn leading to chorus roles in the WA Opera Company's The Merry Widow, Gotterdamerung, Nostradamus and Batavia. Principal roles soon followed, most notably, Jesus in Jesus Christ Super Star for Playlovers Inc., Roger in Rent for Yellow Glass Theatre Inc., and Marius in Les Miserables for Spectrum Music Co.
He was recognised for his performance in Some Enchanted Evening with a nomination for the 2003 Best Newcomer Award at the West Australian Equity Guild Awards.
His short film appearances include Project Intelligence, Iron Bird and The Diagnosis.