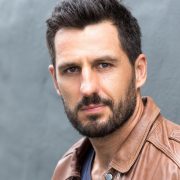 Radek Jonak BIO 2019
Born in Prague, CZ, Radek moved to Australia at the age of 8.
Radek is an acting graduate of The West Australian Academy of Performing Arts (WAAPA). Since graduating he has appeared in such TV shows as The Secret Daughter, The Code, Hide & Seek, All Saints, McCleods Daughters, Home & Away, East West 101, Australia: The Story of Us, Killing the Cure, Friday on My Mind, Fighting Season, Underbelly: Badness, The Devils Playground and most recently the American TV show Reef Break for ABC studios International. Most recently on stage he performed the title role in the Australian Premiere of Stalking the Bogeyman to rave reviews. Radek was in the award winning Australian feature film Red Dog. You may have also seen him save a very grateful seal, as the 'visually challenged lifeguard' for Specsavers Australia.